Central University of Technology Accommodation
Residence accommodation offers every student the opportunity to become readily involved in all activities offered by the CUT such as social activities, sporting activities, life-skills and peer tutoring programmes. It is also an enriching experience to function in a group, doing activities that are unique to each residence.
Information on individual residences
Residences have full-time Residence Managers who manage the facilities and are supported by a Warden and Sub-wardens.
NB: If you experience any problems with residence telephone numbers, call +27 (0)51 507 3911.
To maximize the housing system's educational value, as well as to unite student life and learning, the residence leadership strives to:
Encourage first-year students to participate in the existing academic support programmes for identified risk subjects offered by the Centre of Counselling;
Establish smaller study groups in the residences emanating from above in co-operation with the Centre of Counselling;
Involve academic and support staff regularly in student programmes in residences;
Instil responsibility towards the community through community services.
Residences
External Accommodation
Please note: The Central University of Technology takes no responsibility for private accommodation that is external to the university. These options are listed to assist and are not accredited or endorsed by CUT.
Make sure to:
Visit the site of the accommodation before committing to the property.
Ask questions about safety, cost of water and lights, and any additional extras such as parking etc.
Download External Accommodation list (PDF), 04 January 2018
______________________________________________________________________________
On Campus Accommodation during CUT Academic Recesses
Traveling to Bloemfontein for a conference, seminar, workshop or a school/university tour group and need affordable accommodation?
Why not stay on campus, and enjoy the following advantages:
Centrally situated campus
Affordable rates
Accommodation for large groups
Enjoy well-manicured grounds and social areas of campus
24hr Security
On campus cafeteria
Within easy walking distance of the Loch Logan Waterfront
When are the facilities open? During the residences closed recesses for academic term, see year programme.
Contact us
_____________________________________________________________________________
LADIES RESIDENCES
Huis Technikon
Tel: +27 (0)51 507 3175
Welgemoed
Tel: +27 (0)51 507 3171
Mannheim Ladies
Mannheim is situated on the corner of King Edward road and Ella streets, within walking distance of CUT Bloemfontein Campus.
Tel: +27 (0)51 507 3161

MEN RESIDENCES
Eendrag
Tel: +27 (0)51 507 3170
Loggies
Loggies is situated on the corner of Goddard and Saltzman Streets, within walking distance of the CUT Bloemfontein Campus.
Tel: +27 (0)51 507 3247
Mannheim Men
Mannheim is situated on the corner of King Edward road and Ella streets, within walking distance of the CUT campus.
Tel: +27 (0)51 507 3594

CAMPUS LIVING
Foodstuff
Ready prepared meals are available in the Cafeteria in the Lapeng Student Centre.
Students are also allowed to prepare food in the residences.
CUT Bloemfontein Campus is located within walking distance from Loch Logan Waterfront, one of the city's major malls.
Equipped rooms
Bed and mattress
Cupboard
Desk and chair
Wastepaper bin
Curtains
Computer points in on-campus residences (Welgemoed, Huis Technikon and Eendrag)
Available in residence
Televisions
Laundromat
Telephones
Learning and living areas
Items needed for on campus living (check list)
Bathroom supplies
Towels, toiletries.
Cleaning and washing agents
Handy Andy, soap powder for automatic washing machines, fabric softener,
Clothes-pegs, laundry bag, bucket (plastic).
Crockery
Coffee-mug, glass
Groceries
Coffee, tea, milk powder, sugar, soft drinks.
Bedding
Duvet or bedspread, extra blanket in winter, pillow, sheets and pillowcases.
Electronic
Portable radio, alarm clock, iron, electrical extension cord, double-adapter plug, bedside lamp, and chargers for phones, tablets, etc.
Extra-curricular activities
Students who belong to organisations that attend camps as part of their programme must bring sleeping bags, cutlery and crockery.
Residence matters to note:
Students are responsible for the washing and ironing of their own laundry and/or linen.
No refrigerators and/or freezers may be kept without permission.
No kettles are allowed. Boiling water is available.
Students are responsible for their own medication for injuries and illnesses, such as allergies, colds and flu, etc.
Students may be in possession of cars. Parking is at the student's own risk.
Application for residence accommodation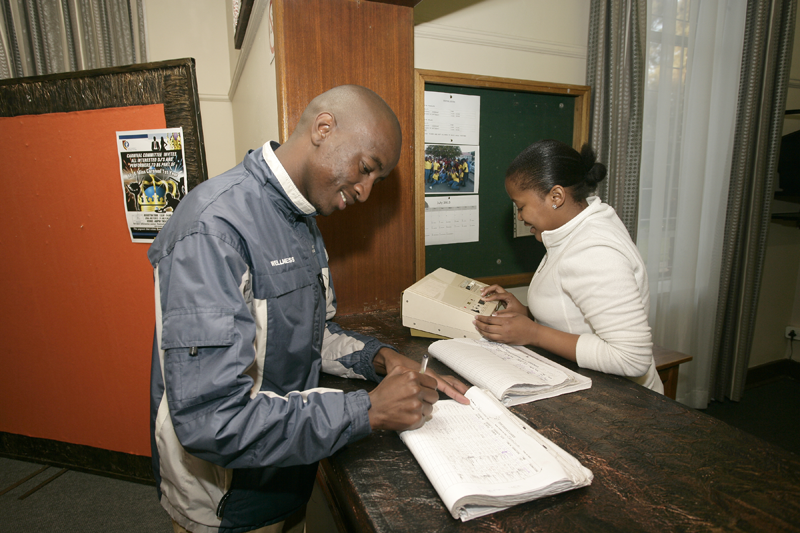 Apply to Residence
Only students who have been accepted academically by the CUT and who have received written confirmation of such acceptance from the CUT may apply.
Important Dates
Applications will open and close on the dates indicated below for residences.
Applications for
Open for Submission
Closing Date
2nd Semester
1 April
30 April
2019
1 August
31 August
First-years applying have no closing date.
Residence Application Form

Banking details and application fees
A copy of the bank deposit slip / University receipt as proof of payment of the application fee must accompany the application form otherwise the application will not be processed or considered. Please keep a certified copy of your deposit slip in a safe place.
The date of payment appearing on the deposit slip is presumed to be the date of signing of the application form and placements will be made strictly according to this date.
If no accommodation is available, students will be placed in residences in accordance with a waiting list. It is the responsibility of the students to keep in constant contact with the Residence Administration for space by dialling +27 (0)51 507 3158 during work hours.
BOARDING FEES
The boarding fees payable by students annually or per semester covers only their accommodation for the duration of the academic quarter.
Postal Address
Private Bag X20539
Central University of Technology
Bloemfontein
9300

Contact us
Manager: Residence Life
Ms Tebogo Sepeng
Tel: +27 (0)51 507 3149 | E-mail: [email protected]